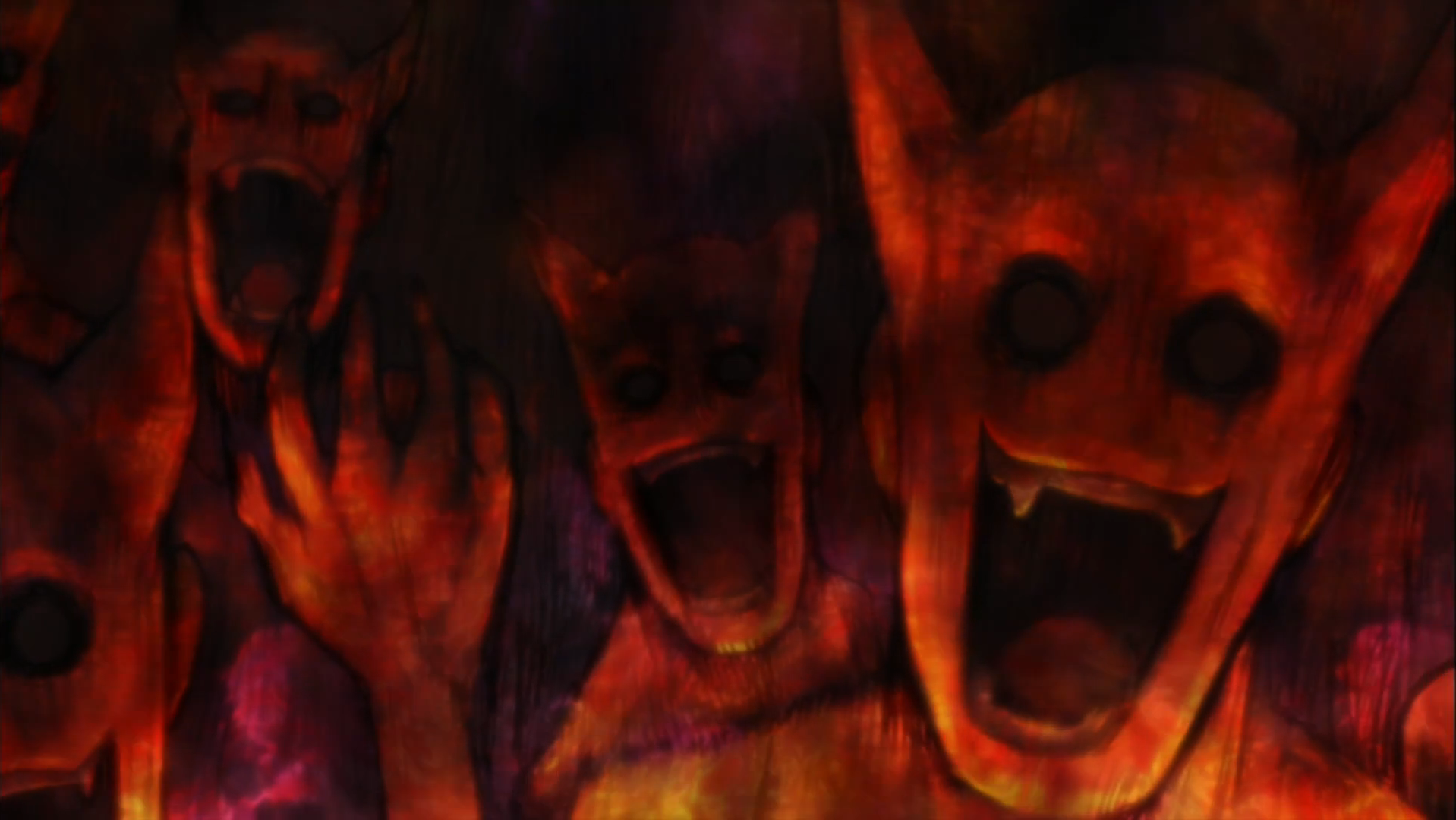 Clan Name: Sensujin
Clan Background: Clan Description:
Insatiable rage
The members of the Sensujin clan are known for having quite the temper. Most of them differ in how they carry themselves, some even being known as being calm most of their lives. However, none of them are born without having blood boiling rage. This rage comes from their ability to passive absorb the sage chakra around them. While they are absorbing the chakra, the rage does not set in, it does however, when they being to utilities this chakra. As they being to change, a spark goes off in their mind, and they become demons that only desire to kill. They can be calmed down, but only by a certain point. Once they are running on full instinct they must either kill their opponent or be killed to stop their lust for blood. Killing their opponent may also not be enough in some cases, and they may attack their allies if they cannot control themselves. Some of the higher clans men have been able to slightly control their while transformed. However, this only occurs when fighting a friendly opponent, or if they do not feel threatened.
Animal Sages:
Majority of the members of the Sensujin clan have fond outlook towards all animal life. They spend time with animals so much, that they almost seem to prefer them over human interaction. And not only do the clan members cherish these animals, but it seems the animals also find them rather likable as well. This has formed a strong bond between the clan members and all the animals that have encountered one another. This bond is so strong, that many of the clan members can call upon animals to aid them if need be, and it is quite possible that the clan members can even understand the animals, and additionally, the animals can understand the clan members. This being said, the clan members have no trouble in creating summoning contracts, as majority of animals trust them. It is even rumored that they are able to contract with several at the same time.
Naturalists:
The members of the Sensujin clan believe in heavily in the nature around them. They are true believers of the term "seeing is believing". The spend their entire lives in some sort of nature like environment, preferring those with lots of trees and animals around. However, they are content with areas with little life, as long as they are mostly outdoors. This might be due to their natural ability to absorb the sage chakra around them, but if they are away from a wide area of wildlife, they seem to become uneasy, and have more fits of rage than often. They truly love the outdoors, even to the point if they worshiped something it would the sun and moon. They realize that all life comes from both of these things, and treat all wildlife with the utmost respect, even shedding blood for those who would seek to harm it, be it on purpose or an accident.  
Clan Characteristics:
Physical appearance
The Sensujin are very easily picked out in a crowd, which for most would be a flaw in being a shinobi. They are very large people, being quite tall and fairly muscular. However, these two things are not their most notable features about them. They generally are seen with either a burnt orange hair color, or red. It also seems their hair is generally spiky as well, but this is not always the case. Along with their odd hair color, their eyes tend to glow a bright red-orange color. They also have an odd birthmark that appears in different spots, and in different shapes and sizes around the body, seeing this would undoubtedly give away their identity Despite all of this, they are known for transforming into what most people would call demons. Each transformation differs from clan member to clan member, and almost always looks different, even if the same person should change twice. Their ability to change their appearance is not only astounding, but deadly. They truly become demons, increasing not only in size, but in overall strength as well. While they are transformed, they are ferocious and ruthless.
As for clothing, the Sensujin do not tend to care much about what they wear. They do not care for rank, as many clans do, but they still have their own system set up. The only true leader being the strongest in the clan.  What they care about most is how pure their blood is. However, when they do care about what they wear, it is likely due to the fact that they are expecting a battle. As most shinobi did during the time period of the Warring States, they wear very samurai like armor. Typically sporting very bland colors such as gray, or very light blue. As for weapons, they do not much have the use for them, as their entire body can become a weapon. Some of them are known to carry weapons, but mostly are used for show. However, since they are easy to carry, they do often carry around small projectile weapons.
Village/Territory:
Fire country
Clan Leader:
Tentei Sensujin
Kekkei Genkai Description:
Sage Transformation (Senninka) -
All the clans members of the Sensujin are born with incredible power, being know as demons just from mere strength and rage alone. However, they are not just crazed behemoths, who are just know for being physically strong. When they are brought into the world, they have the passive ability of absorbing the natural energy around them.  This allows for some surprising effects once the clan members begin to learn to use their powers. Not only do they obtain heightened abilities from this, increasing their strength enormously, but they also have the ability to change their physically bodies, making them truly demonic. Generally, this ability is used in two forms, the first being the weakest, but causing the least harm to the user. This form increases the users stats, such as speed, agility, strength, chakra output, and so on, as well as allowing the user to change smaller areas of their body, typically limited to limbs. The second level provides all the same things that the first does, but increased dramatically. As well as letting the clan members the ability to change then entire body into different types of things such as weapons, openings to allow chakra to pour out of, and even objects that allow them to move easier in certain different types of terrain, such as wings or fins.
However, this is not the only ability that the Senninka offers. Because the clan members can passively absorb the natural chakra around them, they have a very easy time mastering the art of Sage mode. They do not have the same troubles as normal ninja to learning sage mode, meaning that trying to do so, they do not turn into stone. However, they are still not  vulnerable to petrification, if they use their powers too much. While normally ninja can only use sage
Kekkei Genkai Techniques:
(List as many as you would like, and specify which are "secret" or "hidden".)